Colorado-based photographer Mandy Penn recently earned some online love with a newborn photo shoot that's taken the Internet by storm. The Friends-themed shoot used custom-built props to transform Penn's studio into a tiny version of Central Perk, complete with an "ensemble cast" of newborns.
The photo shoot—which took place in early March, before social distancing guidelines or stay at home orders were announced in Colorado—was inspired by the fact that both Penn and her friend/client for this shoot are both huge fans of the iconic sitcom.
"I found out she was having twin girls and I knew she was a huge Friends fan as well," Penn tells PetaPixel. "Since I was just starting to do newborn photo shoots, I ran the idea of a Friends themed photoshoot for her girls past her… That is where it started and then I got EXTRA like always and turned it into what you see."
The result was a team effort between Penn and fellow entrepreneurs Danielle Shunk and Denise Defillipo. Shunk created the tiny Friends couch from scratch, while Defillipo made the character-specific hats (the turkey is our favorite). The rest of the props were purchased from Amazon or Walmart or Target, although Penn laments that she couldn't include even more easter eggs in the shoot.
Here's a look behind the scenes as they were setting everything up: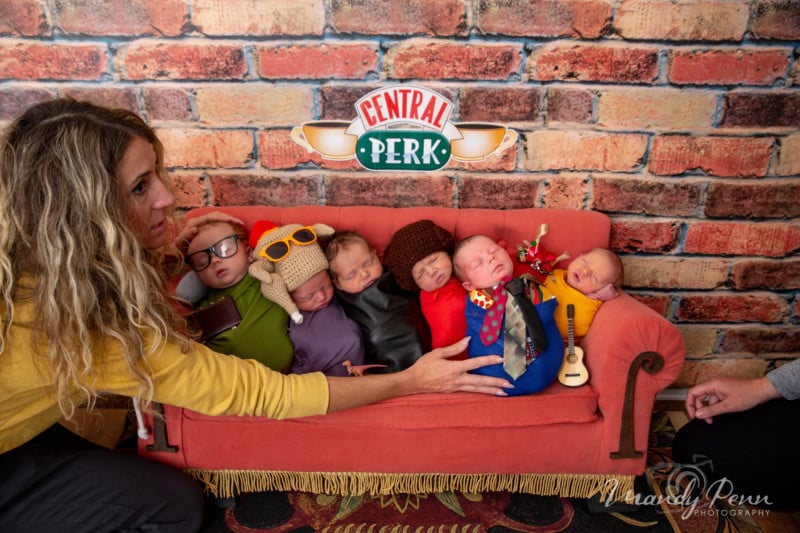 This was actually Penn's first themed newborn shoot, and she credits her mentor Melissa Stynski for enabling it to go so well.
"Everything I know, I've learned (and am learning) from her," says Penn. "I was going to do the shoot myself but she was totally on board and wanted to make sure everything went the way I wanted it! And it did!"
In terms of lighting, Penn used a single Einstein monolight through a huge diffuser (see above) and shot the images on a Canon 5D Mark III, using a Tamron 24-70mm f/2.8. Stinsky was on hand to wrap and pose the babes, and just generally helped her turn vision into reality.
The final product—titled "The one where you forgot about the coronavirus for a minute…"— has earned well over 10K likes and 40K shares on Facebook. An adorable distraction that a few of us could no doubt use right about now: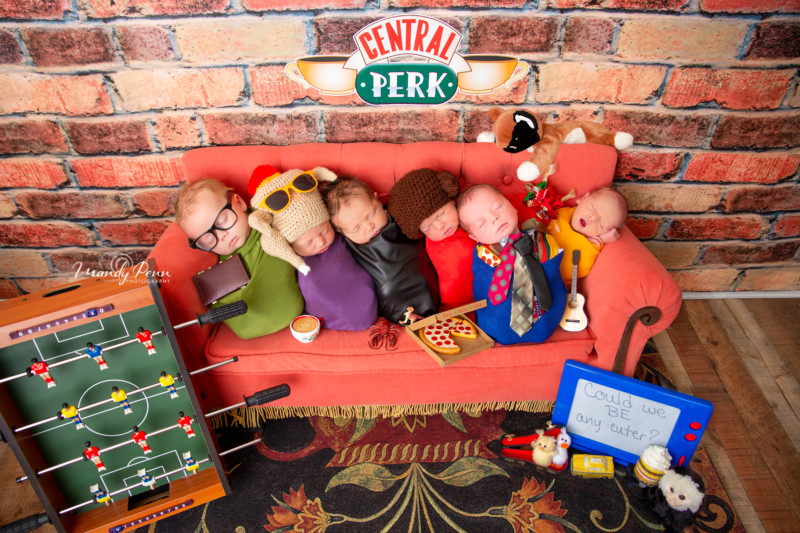 To hear more about this shoot from Penn herself, check out her blog post about the experience. And if you want to see more of her work, be sure to visit her website or give her a follow on Facebook and Instagram.
(via Fox 21 News)
---
Image credits: All photos by Mandy Penn and used with permission.